Meliora is pleased to announce Testlab "Toynbee Tile" with integration plugins to Atlassian Confluence and Jenkins CI included. Please read more about the new features below.
E-mail notifications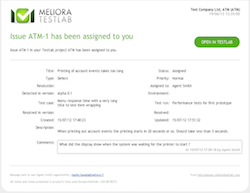 The version includes fully configurable E-mailing notice schemes. A scheme allows you to configure the rules and events for which Testlab will send your users notifications via e-mail.
E-mails are neatly formatted as HTML messages with asset details included. The E-mail message also includes an easy button for you to jump to Testlab with and open up the related asset.
In addition to the notification messages, all requirement, test case, and issue related e-mails are now sent with the new template when the "Send as E-mail" function in Testlab is used.
Notice schemes and e-mailing rules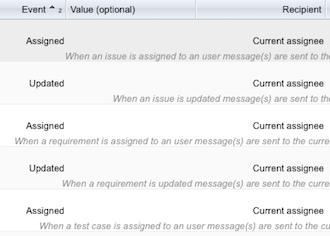 Testlab allows you to design your own schemes for e-mail notifications. These schemes are shared for all projects in your company and can be re-used if applicable.
A scheme is a collection of asset-related rules which define the events which trigger the sending of messages and receivers for these messages.
We've included a set of default schemes in Testlab to make the use of e-mail schemes as easy as possible for you.
Atlassian Confluence integration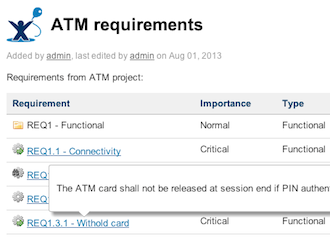 Toynbee Tile brings in support for the Atlassian Confluence plugin. The plugin includes macros for your Confluence site which allow you to include
lists of requirements,
lists of test cases and/or
lists of issues
to your Confluence pages.
Macros are fully configurable with options to pick the relevant assets from your Testlab projects and also render an easy to use "Open in Testlab" action for each asset for easy transition from Confluence to Testlab.
Jenkins CI integration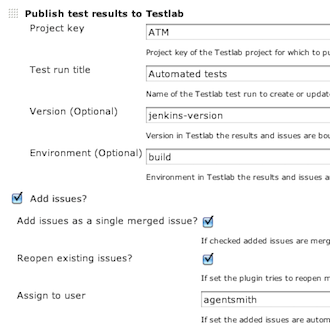 Jenkins CI is a popular open-source continuous integration server. A typical Jenkins build often includes automated tests which might be for example unit tests or integration tests.
Meliora Testlab Jenkins plugin allows you to publish the results of the automated tests to your Testlab project. The plugin pushes the results to Testlab by creating a test run with automated tests mapped to Testlab's test cases.
The plugin allows you to automatically open up issues in Testlab if tests in your Jenkins build fails. Issues can also be automatically assigned to some users in your Testlab project.
If you are using Jenkins for your development this makes Testlab a great choice for your test management efforts.
In addition to the major changes described above, some notifiable changes include:
Project's time zone
Each project has now a default time zone which is used to format for example dates and times in the e-mail messages sent from Testlab. This information will also be used with reporting in the future.
Snappier user interface
Toynbee Tile includes an improved drawing strategy for the browser client. This should make your user interface snappier than before in everyday use.
Improved printing
When printing out individual assets (requirements, test cases or issues) from Testlab we now use the same layout as is used with e-mails.
That's it for now! We hope the integrations to Confluence and Jenkins make the use of Testlab even easier for you in your enterprise. All plugins will be released to their respective repositories (Atlassian Marketplace, Jenkins update center) as soon as possible but in the meantime, all plugins are available to our customers by request.
Sincerely yours,
Meliora team
---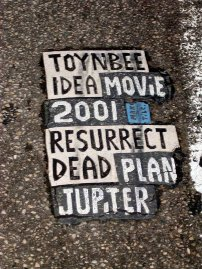 Toynbee tile? The Toynbee tiles are tiles embedded in the asphalt of streets in numerous major cities in the United States and South America with unknown origin. All tiles contain some variation of the message "TOYNBEE IDEA, IN MOVIE 2001, RESURRECT DEAD, ON PLANET JUPITER". Since the 1980s several hundred tiles have been discovered.
What? Yes, someone or some group of people are and have been embedding this message to the streets of major cities for 30 years now. Why – nobody exactly knows but some theories exist and there is a nice documentary about this intriguing subject with one in it for all interested parties there.