Today, we are excited to announce Meliora Testlab – Roopkund. Roopkund features better milestones and many usability enhancements.
Milestones with support for Sprints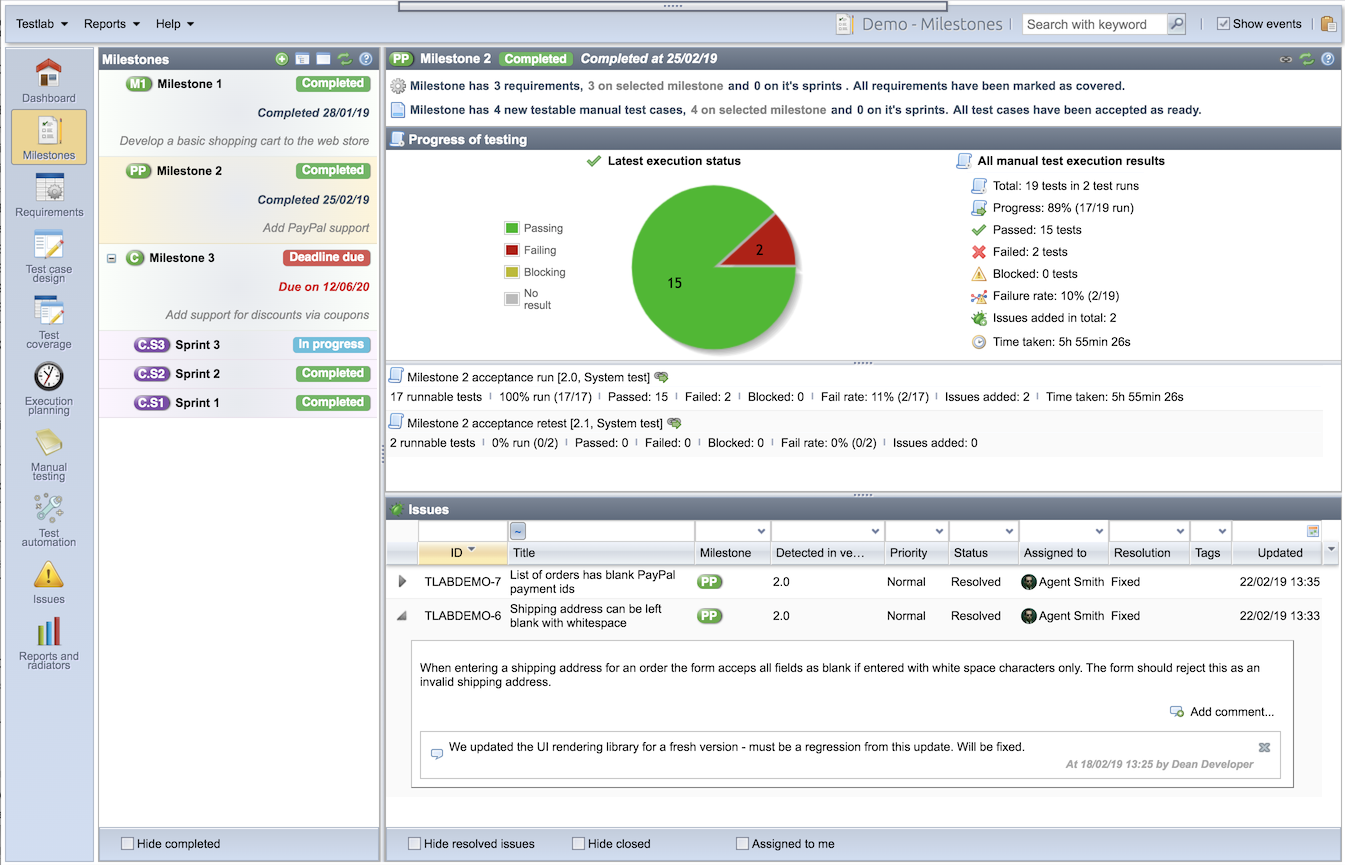 In Roopkund, the management of Milestones is simplified. The inheritance of milestones is removed and to replace this when needing to target multiple milestones, you can simply select them. For example, when you need to report the status for a milestone and another, you simply choose these two milestones to be reported. Earlier, most of the milestone select fields were single-selects and in this version, they have been changed to support the selection of multiple milestones. Also, the milestone selector now has an option "No milestone set" which you can use to target all assets which have no milestone set at all.
Typically, a milestone is a larger part of your project (or software) that gets completed later when the milestone is reached. In practice, in Testlab, it is just a way to group relevant assets together for easier management and reporting. Roopkund now enables you to split these milestones as Sprints, which may be seen as sub-milestones for a specific milestone. In the UI, a sprint is represented with a different colored identifier which includes the identifier of the milestone and the actual sprint.
To recap and to introduce some more minor changes related to milestones,
milestones are not inherited anymore. Just simply select multiple milestones where applicable.
Milestones can be divided into "Sprints".
"No milestone set" option is available in milestone selector to target all assets with no milestone set.
"Target milestone" field for a test case has been renamed as the "Testable in" field. This makes the purpose of this field more clear in the UI.
All dot characters (.) in the identifiers of the milestones will be replaced with underscores (_) if any. Dot characters are now used as a separator in the sprint identifiers.
Sprints are introduced as a concept in Roopkund to prepare for next Testlab releases including more targeted features for task management.
Autocomplete user references in comments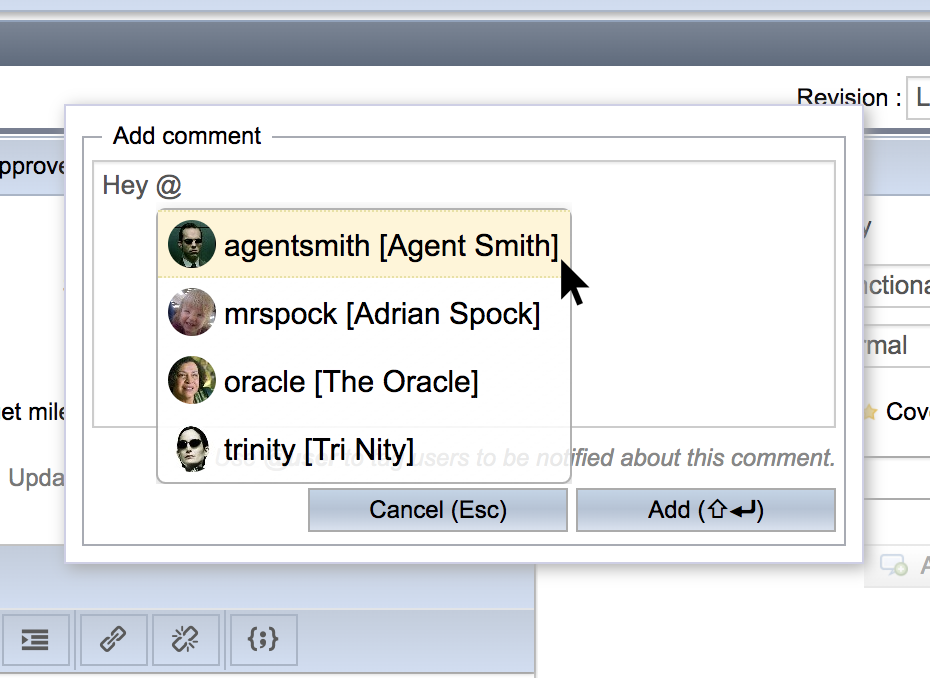 When commenting on assets in Testlab, you can mention a user in a comment body. This way the user gets a notification.
When mentioning a user in a comment, Roopkund now offers an auto-complete component to make the finding of the relevant user easier. Just type the @-character and it automatically pops up for you.
Editing comments
Comments can now be edited. By default, you can edit your own comments and if granted, "comment.editall" permission grants you the permission to edit all comments. To edit a comment, click the pencil symbol on the right-hand side of the comment.
User roles can be copied
When editing a workflow, you can now copy an existing user role. The new role will include the same permissions as the copied role.
Simplified and enhanced select fields
The select fields in Testlab's user interface have been simplified and enhanced:
Clearing values from Version and Environment selects are now made simply by selecting the first empty value. The "Clear selection" button has been removed.
Assignee fields now have an empty value for easier clearing of the set assignee.
When filtering with an assignee, you now have an option to filter in all assets which have no assignee.
Reporting changes
When selecting fields to be included on the listings, the selector now includes the asset type for which each field relates to.
The test category selector has been replaced with a test case tree picker to support picking reported assets more freely.
Testing progress for requirements – and Testing progress for test cases -reports:

Assets (requirements, test cases) and test runs have their own milestone filter.

List of test cases -report:

"Testable in" milestone filter now filters test cases only. Earlier, the current execution status was also affected.
A field to print out the full test category path of the test case can be chosen as a reported field.

Results for run tests -, Testing progress for requirements -, Testing progress for test cases – and Execution status of test cases -reports:

In advanced mode, filtering in test cases with parameters is now possible.

Results for run tests -report:

In simple mode, you can now filter the report by the result.
And in addition
The font size of the UI has been increased to enhance the readability of the UI.
When making selections in trees (tree of test cases or tree of requirements), you can now deselect previous selections.
On the dashboard, in the "Current issues" widget, you can now filter in the issues by their statuses.
The avatar image of the user is now presented in more often: In assignee selects and in the relevant grids.
When searching for issues, closed issues are represented with a different shaded icon.
Thanking you for all your feedback,
Meliora team
---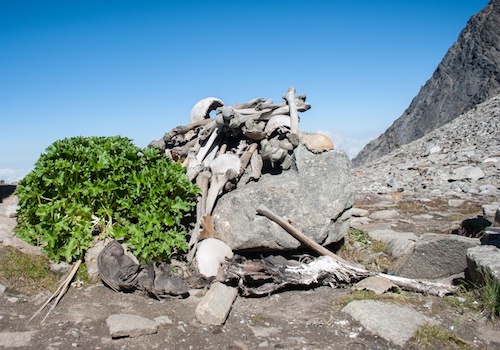 Roopkund is a glacial lake and a popular trekking destination in India. It is located in the Himalayas in an uninhabited area at an altitude of roughly 5000 meters. 
Roopkund is known for the hundreds of human skeletons found at the edge of the lake. The skeletons are thought to be ancient in origin – the oldest ones possibly from a mass death related to a sudden hailstorm around the 9th century CE. 
(Source: Wikipedia, Picture by Schwiki, CC BY-SA 4.0, https://commons.wikimedia.org/w/index.php?curid=35324241)