Meliora is more than happy to announce a new major release of Testlab – the most advanced and easy to deploy ALM/Test management solution for all enterprises – codenamed Razzle Dazzle. This version includes management of Milestones, much-enhanced reporting and effort estimation features, to name a few.
Please read more about the new features below and as usual, all features are immediately live for our hosted customers.
Milestones
In previous Testlab versions, you had an option to use versions and environments to organize your testing efforts and manage your project goals. This mostly works fine but there are situations when having only (usually technical) versions for tracking management might get cumbersome.
Testlab now features Milestones – project reference points that give your project the needed structure for tracking and for easier handling of assets. In software projects, these are typically software releases, sprints, product branches, parts of your software platform or something else that you aim to track your project in.
Some notable features for Milestone management:
Specification assets (user stories, requirements, …) can be targeted to a milestone. This makes the separation of different parts of your project easier inside the Testlab project.
Similarly, test cases and issues may be targeted to a milestone.
A new major view has been added to manage your milestones. This view also offers an always up to date view on how the testing of a milestone is progressing:

Statistics on how the design of milestone's specifications is progressing,
view on the latest execution results of test cases assigned to the milestone and
the list of issues targeted to the milestone.

Milestones can be optionally set up to inherit other milestones: When inherited, the milestone's specification, test cases, and issues can be seen to affect the (possibly) later milestones. This is especially handy when you are managing the testing efforts of your complex platform-oriented software product. For example, you might have customer-specific variants of your product as separate milestones that are set up to inherit the "base platform milestone" in your project. This way, for example, the requirements from the base platform's specification are inherited to all your customer-specific milestones.
A new dashboard widget has been added which allows you to track the progress of a selected milestone.
Reports have been added with the possibility to filter content per milestone.
A new custom field type has been added with milestone selection.
The search function will return matching milestones by identifier and title.
Coverage can be reported against a milestone.
Integration related Plugins (Confluence, Jenkins CI) have been updated to support passing the Milestone information back and forth.
Keep in mind, that using Milestones is totally optional. You can start your project earlier and add your milestones later on when you need one. Using them is recommended though, as the milestone view offers a handy view on your testing progress.
New report templates
Reporting of Testlab has been revised with a number of new report templates. In addition to the new reports presented below, the number of existing report templates has been added with new filtering and configuration possibilities.
Results for run tests
A template to report out testing results for run test cases. The template can be configured to pick and filter the relevant test cases from your project and includes a grouping of your choice and in addition, a detailed list of each executed test.
Testing effort estimation
The report will include all test cases matching the entered filtering criteria and the report will include the average, minimum, maximum and the latest durations for the execution of the test cases. The times calculated will help you to estimate the effort it could take to execute the set of test cases reported.
Issue grouping
This report type is used to get an overall view of your project's issues summed and grouped up against two attributes of your choice. By configuring this report properly you can get important insight into the state of your project's issues.
Issues in time
A time-series graph about issues summed up according to a chosen field. The report will be generated for the chosen time period and will include all issues matching the entered filtering criteria.

This report helps you to summarize how the issues in your project have progressed in time. You can observe the changes against a field of issue of your choice.

Test case grouping
Similar to the Issue grouping report but calculates and reports against test cases of your project.
Test cases in time
Similar to the Issues in time report but calculates and reports against test cases of your project.
Requirement grouping
Similar to the Issue and Test case grouping reports but calculates and reports against requirements of your project.
Requirements in time
Similar to the Issues and Test cases in time reports but calculates and reports against requirements of your project.
Excel and OpenOffice export of reports
All PDF-rendered reports can now be exported as
MS Excel documents, making it possible to easily analyze your data further in the spreadsheet domain, and
OpenOffice Writer documents, allowing you to format the report further in your word processing software.
Testing effort estimation
To this day, Testlab has been recording the execution time when you execute your test cases. Utilizing this information, new features have been added to help estimate your future testing effort.
In Execution planning, a new column "Average time taken" has been added which calculates and shows the average time it has taken previously when this test case has been executed. These values are used to calculate the total time it would take to execute the set of tests currently in the test set editor. This way, you can estimate the total average time it would take to execute a set of handpicked test cases.
In Test execution, we've added a new "Time taken" column to indicate how long it took to execute the test in the test run. The summary of a test run also includes the total time it has taken to execute the tests in the selected test run.
Milestone's testing progress in the Milestones view shows the total time it has taken to execute test cases in the milestone.
Testlab captures the time it takes to execute a test case automatically when you execute the tests. The time a single test case execution can be edited in the Test execution view which allows you to correct the statistics for test cases if the time taken to execute the test case has been incorrectly captured.
A new "Testing effort estimation" report has been added to report out further statistics for the execution of test cases.
Copying projects
Previously, you had an option to configure a single "Template" project with a set of information and settings which would be copied to all new projects. Now, you have an option to select a project from which you would like to copy the content from and in addition, pick the information which is copied. This way, when you are adding a new project, you can always copy the content of your choice from some other project to make the starting of your new project as easy as possible!
Copying old revisions of assets
When you edit ready-approved assets (test cases or requirements) Testlab creates new revisions automatically to the database. Old revisions are accessible by selecting an old revision from the top right corner of the applicable editing view. Now, if you for some reason have the need for rolling back changes or taking a previous version of test case back to use, you can copy the old revision content as a new asset in your project. Just select the asset and revision of your choice and select "Copy as new…" from the menu and Testlab will copy the selected revision as a new asset.
Sincerely yours,
Meliora team
---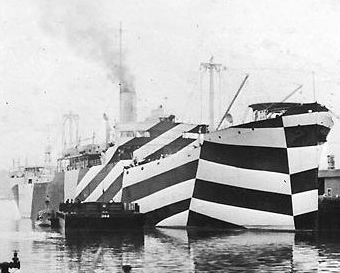 During World War I and to a lesser extent in World War II the seas of the world saw some of the wildest and most psychedelic ship painting designs ever. This is known as dazzle camouflage, which works by making it difficult to estimate the camouflaged ship's range, speed, and heading. The evidence for the success of dazzle camouflage, also known as razzle dazzle, was at best mixed.
If you missed this little part of our history, dazzle your neighbors and go and educate yourself with a Stuff you missed in history class podcast of the topic.