We are proud to announce a new version of Meliora Testlab – Ghost Boy – which brings in features such as rapid batch editing of requirements, test cases, and issues. A more detailed description of the new features can be read below.
Inline table editing
The central assets of your Testlab projects – Requirements, test cases, and issues – can now be inspected in a table view. You can choose a folder from your asset-related tree and the table view will list all assets from this folder.
The data of the assets can be edited inline. This allows you to rapidly edit a set of assets and save your changes with a single click. Adding and editing assets can still be made in a similar fashion as in earlier versions, but the table view brings in the new alternative for rapid edits.
As the data is presented in a table, all regular table related functions such as sorting, filtering, and grouping are available for you in addition to such features as exporting the set of assets to Excel, sending them via e-mail and printing.
Batch edits
Ever had a need to bump up the severity of a set of issues? Or assign a batch of test cases to some user?
The new table view with inline editing features a batch edit mode which allows you to pick a set of assets for batch editing. Then, all edits made to some asset in the table will be replicated to all chosen assets. This way, it is easy to make batch edits to a large set of assets while you are designing.
Project's users listing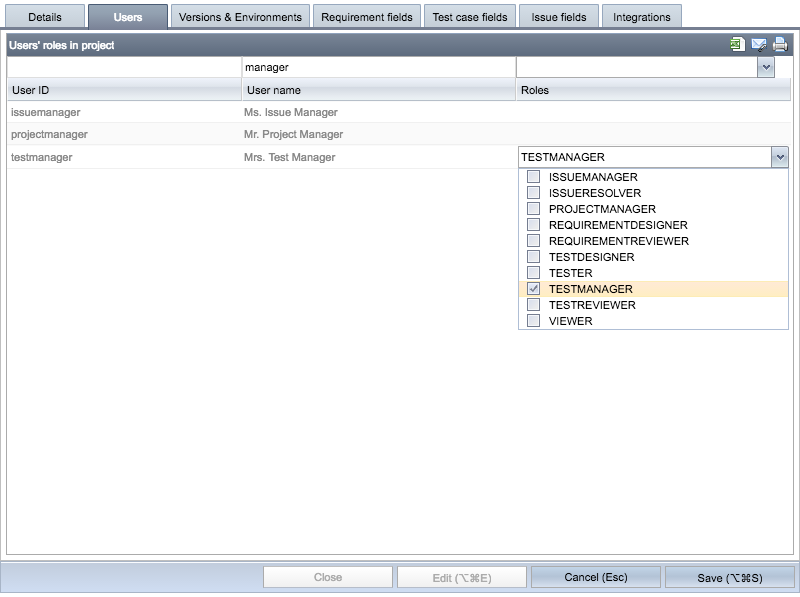 Earlier, granting access and roles for users in projects was done in the user management only. You chose a user and granted the needed roles for this user.
Ghost boy brings in a new Users tab to project management view which allows you to easily manage roles of your users in a project-centric way. You can also filter, sort, export, e-mail and print the listing if needed.
Miscellaneous enhancements and changes
With the new features listed above, this feature release contains small enhancements for executing tests:
Publish now -button added for published reports: When you configure a report to be automatically published, you can now press a button to force a publish of this report. This makes it easier to set up automatically published reporting.
Test run selectors enhanced: The test run selectors in the test case tree and in the test coverage view has been changes to a filterable picker for better usage when there are a large number of runs in your project.
Tagging assets in the table view: The new table views have a button that allows you to tag the chosen assets with tags. Earlier, the tagging in issues table worked in a way that it tagged all visible issues in the table. Now, the assets to be tagged can be chosen in the "batch edit mode" for more flexible usage.
Continue tour on the current view: The tour found in the Help menu of Testlab now starts & continues on the current view.
Results for run tests report: The report now allows you to set the time of day for starting time and ending time the results are reported from.
Meliora team
---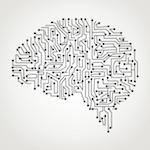 Think of a situation where you would be unable to move in any way, communicate or interact with the outside world. You would be fully aware and able to think – trapped in your own body with your thoughts. Or, you can think of this but never really comprehend what it must feel like.
Meet Martin Pistorius, a South African born in 1975, who fell into a coma in early teens but eventually regained consciousness by the age of 19. He was still unable to move and spent years locked-in his own body until one of his day carers noticed he might be able to respond to outside interaction. He has since recovered but still needs a speech computer to communicate.
You can listen more about this fascinating story from an Invisibilia podcast or check out a TED talk Martin gave in 2015 at a TEDx event.
(Source: Wikipedia, Invisibilia podcast, TED talks, Brain vector designed by Freepik)