Meliora Testlab – Phantom Airship – has been released. In this version, we have focused on bringing in enhancements to the dashboard view in addition to squashing some bugs.
Please read more about these new features below.
Project dashboard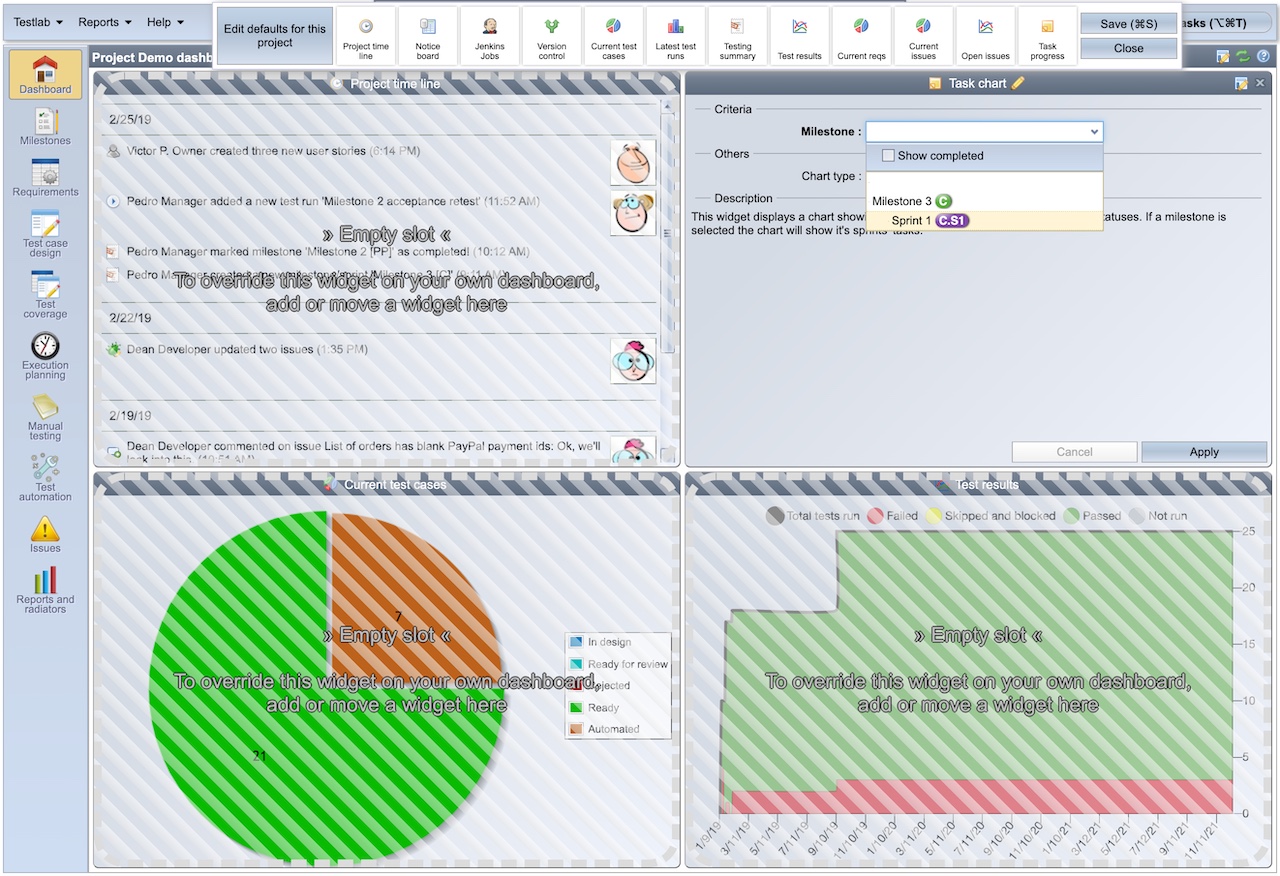 In earlier versions of Testlab, each user had their own personal dashboard – saved to the browser's local storage. This means each browser had its own custom dashboards for each user. In this release, dashboards are changed to truly user- and project-specific dashboards stored in the database.
This release introduces Project-specific dashboards. Each project has a default dashboard that admins can pre-configure for users as follows:
Each slot can be assigned and configured with a widget that will be shown, by default, for each user.
A widget can be "fixed" to place meaning, that the slot cannot be overridden by the user with his/her own widget.
All slots which are not fixed, are free to be overridden by users with their own widgets.
For new projects, the dashboard is never empty: a default set of widgets are always configured.
A new permission "dashboard.manageview" is needed for the configuration of the project's default dashboard. This permission has been added for all admin-like user roles (PROJECTMANAGER, TESTMANAGER, TEAMLEAD).
Note: The current dashboard settings from your browser are automatically migrated to the new database model on your first login.
New widgets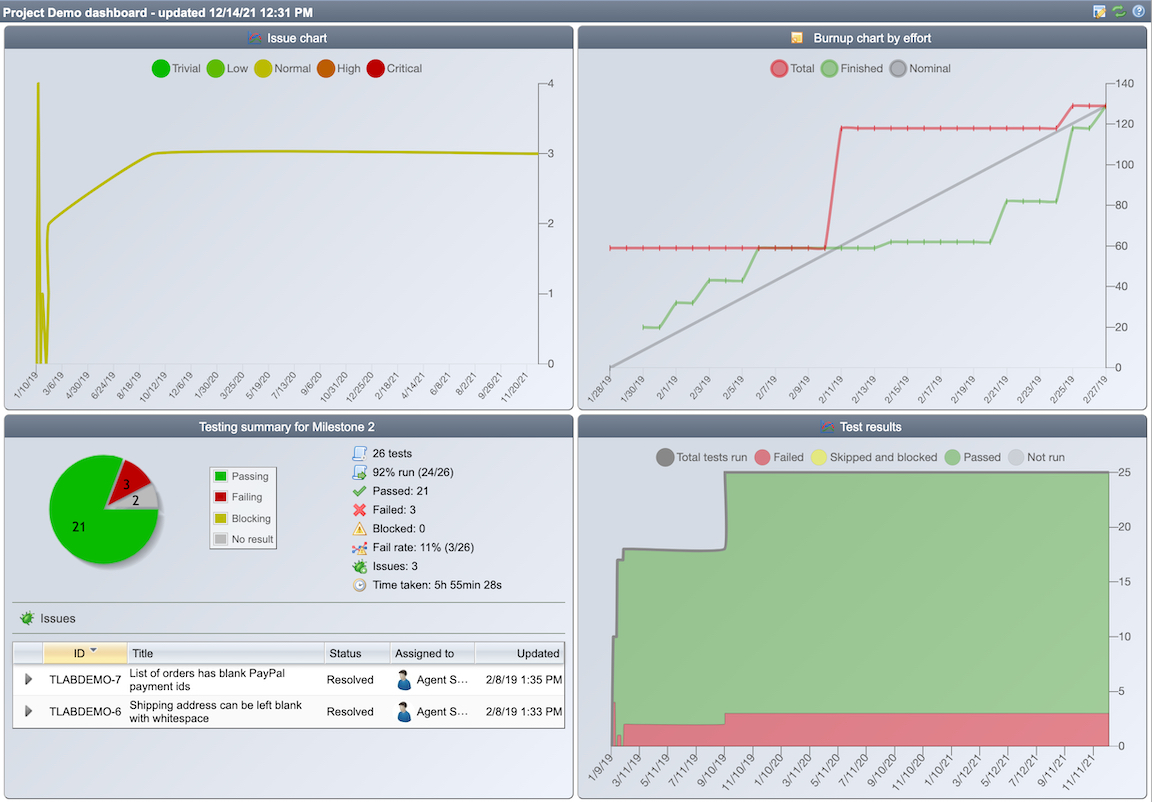 A set of new widgets are now available:
"Test results": Shows the manual testing results as a time-series chart. Test runs to pick the results from can be filtered with milestones, versions, environments, tags, and type. The time period to include the results from can also be chosen.
"Open issues": This shows a number of open issues for a configurable time period as a time-series chart. Issues can be filtered in by milestones, per type, and/or tags.
"Task progress": This shows a chosen chart of the project's tasks for a sprint or a milestone. The widget supports burnup charts, burndown charts, and grouping charts.
"Testing summary": In previous Testlab versions, we had "Milestone summary" and "Test run summary" widgets. This new widget combines these new widgets into a single configurable widget.
Better configuration options for widgets
We have enhanced existing widgets with new configuration options as follows:
"Current test cases" (the number of test cases per design status): Added "testable in" and "tags" filters.
"Latest test runs" (results of last ten test runs): Added "test run type", "unfinished runs only" filters, and sort order configuration.
"Current requirements" (the number of requirements per design status): Added "target milestone", "statuses" and "class" filters.
"Current issues" (the number of issues per status): Added "milestones", "statuses", "priorities" and "types" filters.
Other enhancements and changes
In addition to the above:
You can name dashboard widgets: You can set a title of your liking for each slot on the dashboard.
For test runs, we've added a new field "Last tested". This field follows the timestamp of the latest testing activity on the run as a whole.
On the dashboard, for various widgets, clicking the linked areas such as a status pie-chart slice on "Current requirements", now take you to the corresponding table view with the appropriate filters applied. This makes these links much more user-friendly and intuitive.
When adding a new milestone, the task board settings for it are, by default, taken from the most recent milestone.
Under the hood, the file attachments now support Amazon S3 -compatible backends. We will most likely roll in this feature to on-premise installations too, in the future.
Thanking you for all your feedback,
Meliora team
---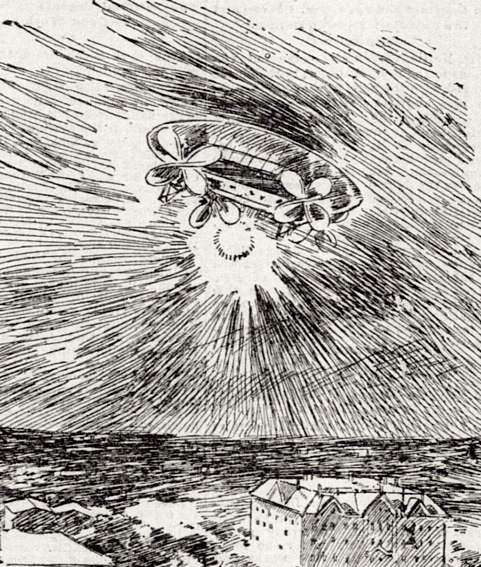 Before the so-called UFO phenomenon was popularized, our skies were not without strange lights. At the end of the 19th century, phantom airship sightings were reported worldwide. If reports mentioned pilots of these aircraft, they were usually described as human but sometimes they were claimed to be from "Mars".
As expected, these sightings were often suggested to be hoaxes, hallucinations or publicity stunts or, real working airships piloted by humans or something in between. We would like to concur with the view presented in the letter printed in Otago Daily Times (New Zealand) that stated that the sightings were due to Martian atomic-powered spaceships.
(Source: guardian.co.uk, Wikipedia, Picture: Mystery airship illustrated in the San Francisco Call, November 1896, public domain)